Jacinta Dennett - Harp
Booking / Enquiry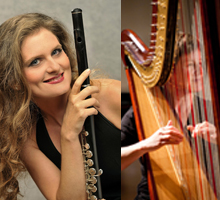 Victoria, Australia
Jacinta began piano studies at the age of four and was introduced to the harp at Loreto Collect, Ballarate, where she bagan lessons with Moya Jess in 1977. On commencing an Arts degree, she continued harp with Mary Andreson, principal harpist with the Victorian State Orchestra. IN 1985 she successfully auditioned for the entry to the Faculty of Music to study harp under Huw Jones, the then principal harpist in the Melbourne Symphony Orchestra. After obtaining Bachelor of Arts and Bachelor of Music Degrees in 1989 she established her freelance harp career under the guidance of Alexandra Shephard.
Currently, Jacinta teaches harp privately at Methodist Ladies College, Kew and Eltham.
She is principal harpist with the Delman Memorial Symphony Orchestra and Malvern Symphony Orchestra. Jacinta is a skilled harpist with a repertoire that includes Classic / Baroque, Orchestral expertise, Chamber Music, Theatre and popular pieces. Jacinta had worked in the Hotel industry at The Regent's Green Room and 35th Floor suites, and the Savoy Park Plaza Restaurant for one and a half years on Saturday evenings. In addition to her involvement in orchestras, she has been harpist with the Melbourne University Orchestra, Victorian and Melbourne Youth Orchestras and the Preston Symphony Orchestra.