Highball Burlesque
Booking / Enquiry
Hi Ball Burlesque is Australia's premier burlesque troupe, captivating audiences around the country with their classic, glamorous brand of tease. As the first burlesque troupe in Australia, Hi Ball has been at the forefront of the burlesque revival since 2002.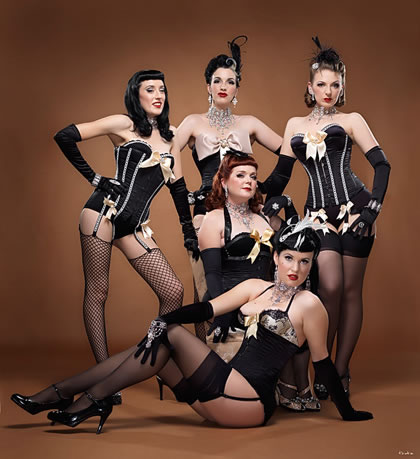 Hi Ball is renowned for their exquisite costumes, authentic vintage style and dazzling stage shows. They have a tantalising array of group and solo routines to suit different events and budgets – everything from five minute spot performances to a full length burlesque show. Some of their most popular routines include a glamorous fan dance, saucy balloon popping, awe-inspiring tassel twirling and their show-stopping group fan dance.
The five girls of Hi Ball regularly perform for discerning audiences at festivals, major events, private parties and corporate events. They can add a touch of glamour to a range of different functions, especially in the following themes: Burlesque (of course!) 1920s, 30s, 40s or 50s eras, Moulin Rouge, Chicago, Hollywood and Vegas.
So if you're looking for the ultimate in vintage style glamour, look no further than Hi Ball Burlesque!
Testimonials & media quotes
"Hi Ball Burlesque really added value to our event with their flamboyant costumes and cheeky stage personas. It had people talking all night and I would definitely book them for a future event".
Ebony Lowther, Chartered Accountants
"Hi Ball have become much admired and desired throughout Australia for their rhinestone dripping, fan swaying, tease filled routines. "
Dr Sketchy's Anti Art School (Melbourne)
"Their style of burlesque is cutesy and sassy, somewhere between the steaminess of Betty Page and the sexiness of Marilyn Monroe".
Qantas Arrivals & Departures magazine
"Woman love the show as much as – if not more than men".
Herald-Sun Sunday magazine