Cal Wilson
Booking / Enquiry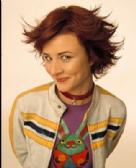 Melbourne, Australia
Cal Wilson is a Kiwi comedian who makes a lot of Australians laugh! 2010 was certainly an exciting year starting with her role as host of ABC's new television series 'Sleuth 101'. This was a brand new format, a 'whodunit' game show with a comic twist.

Spending the first few months of 2010 on breakfast radio also added to her hectic schedule. Cal quickly jumped back into radio, filling in on Vega breakfast with Ian 'Dicko' Dickinson. Having co-hosted mornings on Nova 100 with Dylan Lewis in 2009 and 'The Wrong Way Home with Akmal and Cal' nationally in 2008 & 2007, Cal is one of the most well rounded media talents in the country. She is also well recognised in Australia for her hugely successful Melbourne International Comedy Festival, Melbourne Fringe Festival shows and her many appearances on television shows such as "Spicks and Specks", "Good News Week" and her acclaimed guest appearances on "Thank God You're Here".

More recently Cal has been travelling back and forth between Australia and New Zealand to present several episodes of NZ's TV 3 show, 7 Days. When Cal first arrived in Australia, she was immediately offered a regular role as writer and performer on Channel 10's comedy sketch series "SkitHouse". She then wrote and performed on "The Wedge" whilst regularly appearing on Triple M's radio shows "The Shebang" & "Get This with Tony Martin" before moving to her regular role on NOVA. Cal was asked to appear as celebrity contestant on Channel 7's "Dancing with the Stars" in 2007, she loved the challenge and wearing all the fancy frocks!