Rachel Berger
Booking / Enquiry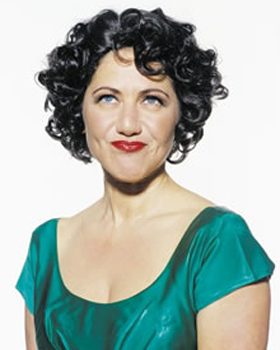 Melbourne, Australia
Rachel Berger is a stimulated-by-the-fear-of-failure sort of woman, which is why she's one of Australia's most highly regarded comedic talents, working variously as a comedian, broadcaster, novelist, columnist, agitator and television entertainer.
Rachel has been prowling the stand-up circuit like a tigress for 21 years. She's taken four solo shows to the Edinburgh Fringe Festival and her dynamic presence and engagingly sharp observations have made her an extremely popular performer both live and on television, across Australia and overseas. Her debut novel for Penguin, Whaddya Mean You're Allergic To Rubber? was an immediate hit.
Whether it's performing a sell-out one woman show in Australia or overseas, appearing on television or radio, writing regular newspaper columns or publishing her best selling novel, Rachel's "take no prisoners" attitude has had audiences laughing since she first started out on the comedy circuit in 1986. Rachel is now regarded as one of the country's most diverse comedians.
Rachel believes that laughter is a powerful tool able to communicate a powerful message. With this in mind she's been invited to appear at events as diverse as hosting a public forum on Climate Change with world-leading Climate Change expert Stephen Schneider, to writing and performing in Diversity Works, an educational video for the Council for Equal Opportunity in Employment and as a special guest performer at a Positive Living Expo for Women with the overall aim to reduce the harm associated with gambling.
With her unique ability to connect with an audience, Rachel is also a superb corporate speaker and MC. According to Andrea Jones, the Editor of Home Beautiful magazine, "Rachel's presentation was funny and, especially important, it was relevant. We have been inundated with compliments on the success of these awards and it is true to say that Rachel's performance made us, the client, look good."