Richard Stubbs
Booking / Enquiry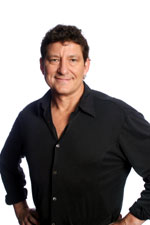 Melbourne, Australia
Richard Stubbs is most well known as Australia's finest stand-up comedian. His cutting wit and clever delivery makes for rapid-fire entertainment and his winning style makes him the most potent force in Australia's live, radio and television markets.
Educated at Wesley College where he was School Captain, then a Bachelor of Economics with four years of 'nose to the grindstone' for CRA Ltd., Richard seemed destined for a successful career in finance........wrong!
After a try-out routine at Melbourne's Last Laugh in 1983, Richard's style of anecdotal comedy, based on real life experience proved an immediate winner. His ability to hold an audience enthralled with his sharp delivery and rapid-fire ad-libs earned him a reputation as the hottest arrival on the comedy scene. Since then, Richard has performed in every comedy room imaginable including those in Montreal, Los Angeles, London, New York not to mention Australia.
Richard's TV credits include that of writer, interviewer, co-host, host, actor and comedian! The list of TV credits reads some-what like a TV Guide of major events and his highly polished live performances were refined even further by the experience he gathered whilst hosting 120 'Tonight Live' shows every Friday evening aired on Channel 7 nationally from 1990 to 1993.
Richard's successful radio background is extensive and provides him with 20 years of experience. He started on 3XY breakfast show, followed by the unrivalled success at Triple M in mornings then moving to the Richard Stubbs Breakfast Show for 5 years on Triple M and he was rewarded with constant No.1 ratings.
The public interest in Richard and his popularity became evident when he retired from radio at the end of 1997. During 1998 & 1999 Richard was inundated with corporate engagements and regularly appeared on and hosted Hey Hey It's Saturday, receiving brilliant reviews and ratings. He completed a sell out season at The Athenaeum Theatre during the Melbourne International Comedy Festival in April 1998 and two national tours during the same year.
Richard's first published book was on the shelves in 1998. The title, 'Still Life - Thoughts of a Man Hurriedly Going Nowhere', certainly was not the case with Richard as he embarked on another national stand up comedy tour in 1999 and continued his busy corporate schedule.
Richard returned to radio in the year 2000-2003 on 101.1 TT FM, now known as Mix FM, hosting 2 years in the morning shift and the third year at the helm of the 6.00am to 9.00am breakfast shift. He dug his heels back into the live stand up arena performing his Melbourne International Comedy Festival 2003 show 'Richard Stubbs Comperes Le Joke' and continued the festival run by selling out his 'Up Close' Gold Coast Comedy Festival show and a season run at Sydney's Comedy Store together with varied corporate engagements around the country in 2003 & 2004.
This year sees Richard's years of experience culminate into the next phase of his radio career as he takes on the afternoon shift on 774 ABC Melbourne. He has joined the world of talk-back and in his words "Let's face it, talking is not something I've ever had a problem with!"