Anna
Booking / Enquiry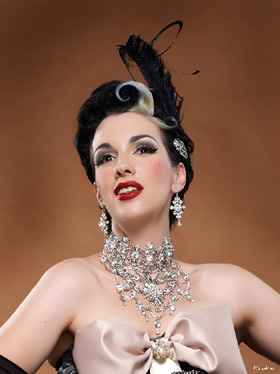 Anna is the founder of Australia's only official Go-Go dancing school, Anna's Go-Go Academy. Anna's Go-Go classes have been running weekly since 2006 and are ever expanding! She now runs three classes a week, plus special classes for corporate functions, hen's nights and major events. Her dreams of becoming a Solid Gold Dancer never fulfilled (due to the axing of the show in the mid eighties), Anna now dreams of amassing her own Go-Go Army. In the last 3 years Anna has taught go-go dancing to over 1500 people.
Anna has performed at the Falls Festival 2008 in Tasmania, starred in her own Melbourne International Comedy Festival show and has appeared in a number of theatre productions and cabaret shows, including co-hosting So You Drink? You Can Dance! the Friday night amateur dance spectacular which was a runaway hit in both this year's Comedy and Fringe festivals.
Anna has appeared on ABC TV's The Insiders program, in The Age and the Australian newspapers and Melbourne's ABC, Triple J, RRR, and PBS radio stations.
My experience of this Go-Go dance class is that it's like being invited to a high energy party, at which you'll be taken care of by the hostess with the mostest! Anna expresses a desire to "amass a go-go army" and by the end of the class I believed she could!" Lola Macmillan, Melbourne Stage Online
"It's like going to church with a brilliant teacher each week. The classes are so inspiring. It makes you want to get out there and practise every night...you get a real endorphin high and it's fun and you laugh and you're hanging out with your friends." Maryanne Bridges, The Age Newspaper
"Hi Ball Burlesque is Australia's first burlesque troupe...these girls have performed at everything - for everyone. Since 2002 these girls have made burlesque what it is today, you haven't seen anything 'til you've seen Hi Ball Burlesque." Rave Magazine
"Hi Ball have become much admired and desired throughout Australia for their rhinestone dripping, fan swaying, tease filled routines. " Dr Sketchy's Anti Art School (Melbourne)