Alan Percy
Booking / Enquiry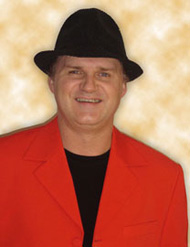 Alan Percy has been entertaining audiences in Australia and Internationally now for over 2 decades in Bands, Trio's, Duo's, as a soloist, ventriloquist, magician, variety entertainer, Actor and Street Performer, working on stage, Television and an array of venues.
As a roving performer Alan Percy has a variety of strings to his bow including ventriloquism, Magic, balloonology, Stilt Walking, music and a bunch of characters to suit almost any occasion or clientele.
His versatility and professionalism as well as an amazing repertoire have seen him entertain audiences here in Australia and abroad from all genres in Hotels, Clubs, Cruise Ships, Holiday Resorts, festivals, shopping centres and corporate functions.
Clients include: Victoria Racing Club, Crown Casino, Jupiters Casino, Visy, Coca Cola, Holden, Ford to name a few.
He worked and toured for over 12 months with one of Australia's most recognised theater Restaurant Groups 'Dirty Dicks' playing the part of 'Alan A Dale' in the Robin Hood Show.