Stax, the Didgeman
Booking / Enquiry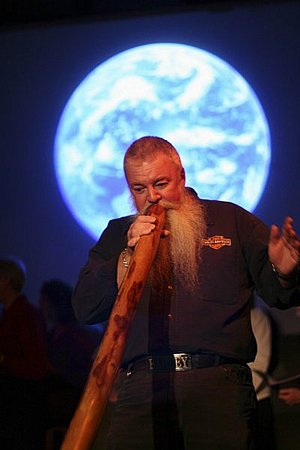 After 26 years of running large computer systems for other people, I decided I didnt want to drive a desk anymore and ramped up my hobby to business status. Now I make didgeridoos, perform on stage, record music and teach all aspects of the instrument.
I like my didgeridoos to retain the flavor of the tree they were made from so I don't paint them. I am not an Aboriginal person so I don't copy indigenous art but apply geometric patterns using pyrography and sand my didgeridoos to a fine finish before giving them 2 coats of gloss or satin varnish. I have sold didgeridoos to all the continents except Antarctica and have made 250 to date. I make and sell between 50 and 70 didges each year.
STAX performs regularly at many major music festivals, concerts and at community and corporate events, conducts workshops at schools, has produced his own CD and done session work on various other artists' recordings.
He is an experienced musician and is just as comfortable working in ensembles or with a full orchestra as he is performing solo. His large range of didgeridoos enables him to play in the key and with the voice required.

Too few Australians know anything factual about the didgeridoo either practically, historically or culturally.
My mission is to demonstrate and play didgeridoo to as many people as possible in order to promote it as a valid musical instrument, the only truly Australian one. I am a professional didgeridoo maker, performer and teacher, this is my full time business.
I am teaching people about didgeridoo, I emphasize the historical, cultural and traditional aspects as well as how to play. I do not copy Aboriginal art or style of playing, being contemporary in all my didgeridoo work. I acknowledge the Australian Aboriginal people as traditional owners and players of the didgeridoo.
I am a trained musician and experienced performer having the ability to engage and entertain an audience. I am familiar with sound equipment and can set up and manage a stage, I provide all equipment for my performances and will work equally happily with an in-house sound system.
I have performed on stage with some of Australia's great didgeridoo players: Alan Dargin, Mark Atkins, Charlie McMahon, Bruce Rogers, Ganga Giri and Scot Gardner to name a few.
I have recorded two CDs which sell well: Didi WAh Doo Wop, a tutorial CD and Arboressence, a music CD.
I work in kindergartens, schools, universities and other associations such as Scouts and church groups. I have performed at the Maldon Folk, Dandenong Ranges Folk, Noojee, Stringy Bark, Bellarine and The Basin festivals most recently. I stage corporate team-building sessions based around learning to play the didgeridoo, these are much fun, noisy and productive.
I have collaborated with community organizations such as Dandenong Ranges Music Council writing, performing and working with special needs groups to make music. I run a registered business with an ABN and the required public liability insurance. I have a current Police check and Working with Children permit. I am an associate member of the Victorian Music Teachers Association. I am available to perform at events or concerts you may have planned.
Adults
How-to-play workshops are a 1-hour session which will see the participants leave with some good playing skills, I provide enough hygienic plastic didgeridoos and printed handouts for everyone to have a try.
Masterclass
Didgeridoo workshops, these are aimed at players who want to hone particular skills or really stretch their playing abilities, they run for 1 or 2 hours and I plan them once I have met my audience. I have extensive printed notes and other reference material.
For all these workshop participants are most welcome to bring their own didgeridoos, I provide a free inspection and assessment and can fix minor problems or rebuild wax mouthpieces.