Bushwahzee
Booking / Enquiry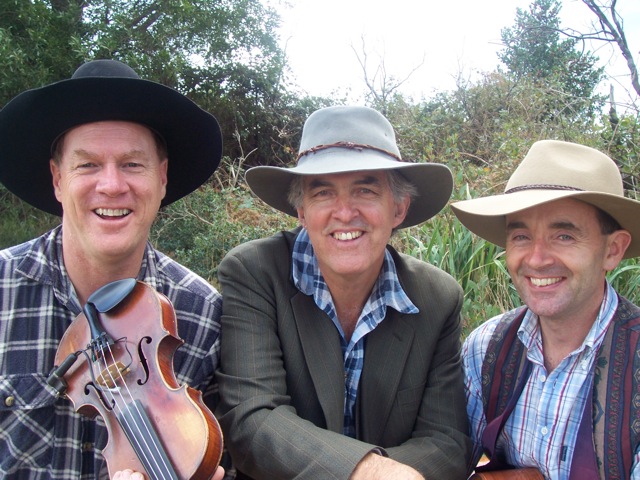 Bushwahzee is a Melbourne institution, an enduring band of musicians, and possibly one of the very few Australiana groups working full time.

The band has seen many changes since its first gig at the Organ Factory in Clifton Hill in 1981, but the current line up is Paul Jenkins, original Bushwahzee member, singer, dance caller and lagerphone extraordinaire player; Felix Meagher - fiddle player, song writer and composer of musicals; and Cyril Moran - Irish singer and guitarist well known around Melbourne for performing solo in Irish pubs.

Bushwahzee specialises in performing songs and dances that get their audiences involved. The band is equally happy in playing at tables in restaurants and encouraging people to sing along as it is calling bush dances for everyone to get up and have a go. Their arrangements of Australian folk song have parts especially composed so that most people can very easily join in. Typical events the band plays at are weddings, birthday parties, re-unions, work place celebrations, outdoor events, get-togethers, sports nights and in schools.

In 1992 Bushwahzee devised a new musical for schools called The Bush Cabaret. This show is essentially a one-day production where the children at a school learn songs and dances during the during the day and perform them for their parents that evening. The Bush Cabaret has been performed in over 1200 schools around Australia, and requests from teachers have led the band to devise the follow up shows The Sixties Happening, The Country Music Show, The Bushwahzee Surf Show and The Bush Christmas. Bushwahzee performs these shows regularly in schools throughout Victoria, NSW, South Australia, and Tasmania.
Bushwahzee sometimes performs as a four piece, including well known Irish singer, Pat McKernan.