Sporting Paddy - Irish Band
Booking / Enquiry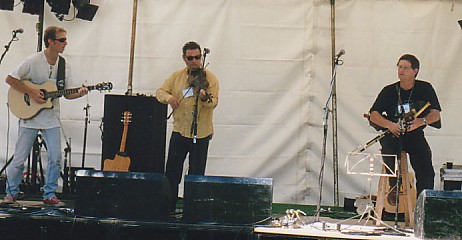 Sporting Paddy is proud to be part of Melbourne and Victoria's Irish music scene since 2000. Sporting paddy is a lively Celtic trio playing Irish, Scottish and contemporary songs and tunes, from 'black velvet band' and 'whiskey in the jar' to 'brown-eyed girl' and 'to her door'.

Sports Paddy have had a lot of experience at weddings and functions. They are perfect for easy listening or dancing music. Instruments featured include; fiddle, guitar, uilleann pipes, bazouki, mandolin, and djembe.

Sporting Paddy have played regularly at venues all over Melbourne including Bridie O'Reilly's in Brunswick, Flanagan's in Collingwood, and the Dan O'Connell in Carlton as well as the Molly Blooms in Port Melbourne, Brian Boru and Pugg Mahone's (formerly Darby O'Gill's) in Bendigo and many more.

In addition, they have performed at many private functions and weddings as well several corporate functions at venues such as the Hilton hotel, the Windsor hotel, the Regent Hotel and Parliament House. In 2006 they were fortunate enough to play at the athlete's villages in both Melbourne and Bendigo during the commonwealth games. This year we have regular bookings at the Celtic Club in Melbourne, the Quiet Man and Hickinbotham's Winery Dromana.

They usually play as a 3 piece band or duo but can also play as a 4 or 5 piece band depending on your requirements.
They feature guitar and vocals along with fiddle, mandolin, uilleann pipes and percussion.

Sporting Paddy's repertoire includes traditional and contemporary Irish and Scottish music along with contemporary middle-of-the-road international and Australian covers . They can pitch the music to suit the audience and situation, from mellow background music to loud and fast dance music.