Ernie Gruner
Booking / Enquiry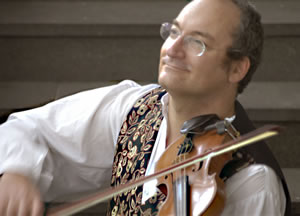 Ernie Gruner has a long history in Australia's acoustic, theatre and world music scenes. Current bands range from the jazz and cabaret comedy of Jugularity, to the Jewish and Middle-Eastern sounds of Klezmeritis and Yalla!, to improvising music in Melbourne Playback Theatre Company. He promotes Klezmer (Eastern European Jewish) music with his workshops and performances around Australia and beyond.

Other bands have included Greek and Sephardic influences (Melisma and Soleluna) and the Klezmer Trio, while Bohemian Nights and Flirting Mazurkas include jazz and latin as well as European and Eastern influences.
He has been a member of Dya Singh band (Sikh), Kalinka (European), Zingara (world/gypsy), Howlin' Wind Band (world/rock) and accompanied Zulya Kamalova, Kavisha Mazzella, Bronwyn Calcutt, Gypsy Fire - Matthew Fagan, Texicali Rose (mariachi) Colin Reid, Brahim Benim (Moroccan), Afandi Siyo (Oromo/East African). As a classical musician Ernie led the Monash String Quartet for over ten years and was an orchestral violinist.

His theatre involvement and collaborations have included Playback Theatre, Cafe Scheherezade, Progress and Melancholy, Russian Soup , Emma Celebrazione, Blue Absinthe and cabaret with Jugularity and more.
Ernie is active as a violin teacher or more often as a fiddle teacher, introducing classical violinists to folk and improvised music styles. As a recording musician he has over 70 credits. He won the Port Fairy Tune Writing award with his wife Cathy Dowden for "Jered's Jive" and plans to compose more - one day.

In 2010, Ernie was profiled in Seth Jordan's book "World Music: Global Sounds in Australia", published by UNSW Press. The book explores the story of Australian-based performers and other individuals who have significantly contributed to the development of Australia's world music scene.