Jason Machado - Brisbane
Booking / Enquiry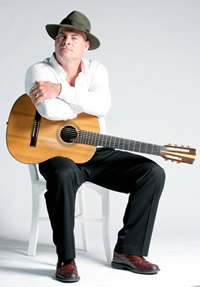 Jason Machado has been performing Brazilian popular music for over 15 years on both the eastern coasts of Australia and Brazil.
With his nylon seven-string guitar and smooth passion-filled vocals, Jason's performances have been referred to as 'sublimely positive and joyfully uplifting', to which Jason responds is only the 'Brazilian way'.
Drawing upon an enormous range of global sounds - 1800s French Salon Music, African Song Form, Jamaican Calypso and Carnivale Jazz – Jason unites these unconventional styles with the upbeat melodies and rhythms of Brazil. The result is rich and beautiful music - stirring, joyous and exotic. And Jason performs this to best effect either as a solo entertainer or with a versatile group of equally exotic musicians. Rachel Langford of the Courier Mail refers to Jason Machado's performances as "perhaps a Brazilian-style answer to the Buena Vista Social Club".
Jason Machado and his Música Popular Brasileira is the ideal choice as a stunning and unobtrusive backdrop to your stylish event.
Either in a solo performance or partnered with light percussion and / or cello (and other instruments of your choice), this light-hearted global approach to music will certainly enhance the elegance of cocktail parties, intimate events and formal affairs.