Owen Thomson
Booking / Enquiry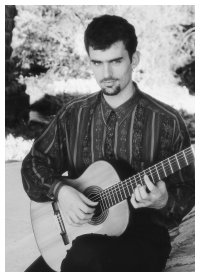 Owen on nylon string guitar is an extraordinary player, capable of performing superb melodies and exhilarating improvisation. He is a master of the guitar and a gifted natural as well as being fully trained with his Masters in Music.
Owen is quick to pick up ideas and make them flow through to his guitar like it is an extension of his soul.
He is adept at sight reading and capable of memorizing a piece of music on the night making it flow as naturally as a river flowing to the sea. You can play a melody line and he will mimic it without hesitation (if requested to do so).
Recognized as one of Australia's top young classical guitarists, Owen Thomson was the winner of the 2000 Adelaide Guitar Competition, and has often been a finalist in major competitions. His musical backgorund is extremely varied, ranging fom heavy metal to Latin jazz and blues. He is also a composer and prolific arranger, most of his works are for the solo guitar and have been premiered by himself and other guitarists such as Ken Murray in Australia and Patrik Karlsson in Sweden.
In 2001 Owen toured Europe, perfoming in Italy, and in London with singer Narelle Gillie. He has also recently performed the Concert Andaluz and Fantasia para un Gentilhombre for guitar and orchestra by Joaquin Rodrigo, and Castelnuovo-Tedesco's Concerto in D major.
Most recently Owen has become one of an elite group of artists to perform the complete set of J.S. Bach Sonatas BWV 1001-1006 (arranged from the solo violin) from memory in two consecutive concerts, a rare feat of memory and concentration.
Owen has been the recipient of numerous awards, among them the Gwen Nisbet Memorial Award, the Murray Sharp Chamber Music Prize and the Lady Stephen Scholarship. He graduated from the Victorian College of the Arts with an Honours Degre, and the received his Masters from the University of Melbourne. He is also a Fellow of Trinity College London.
Owen has appeared at the Apollo Bay Music Festival, the Frankston Guitar Festival and several times at the Darwin International Guitar Festival, where he has again been invited to perform in 2002.
As well as appearing as a soloist, Owen works often with other musicians in a variety of ensembles. These include Encuentro (tango duo) and the Bach Project, a highly innovative group of which he is also a Director.
Since 1999, Owen has been on the teaching staff at both the Victorian College of the Arts and the University of Melbourne. He is a passionate believer in the art of music-making and teaching, and the importance of its role in our society.