Sarah Maclaine
Booking / Enquiry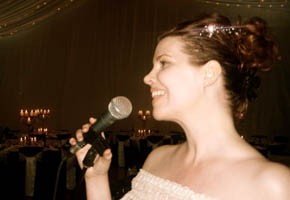 Singer/songwriter Sarah Maclaine lives each song she sings and constantly delights audiences with her rich, velvety voice, it's beautiful tone and fantastic vocal range. If you happen upon one of her performances you feel drawn in.
She moves with ease from jazz to pop, blues to r&b, disco to Latin. You name it, she does it! Everything from the Beatles to Beyoncé, Ella Fitzgerald to Elvis Presley, Michael Jackson to Michael Bublé!
Having worked with some of Australia's finest entertainers such as Peter Cupples (Stylus), Ross Wilson (Daddy Cool/Mondo Rock), Lisa Edwards (John Farnham) and others, Sarah has had extensive experience as a session/back-up vocalist
From 1997 she was a regular guest artist on Bert Newton's Good Morning Australia, clocking up approximately eighty performances on the show.

As well as GMA, other television appearances have included the popular variety show "Hey Hey it's Saturday" (2 performances with Cupples); Denise Drysdale's "Denise" morning programme (regular appearances); The Good Friday Appeal for the 7 network (closing song during the telecast); and many commercials.
Events have included The 2006 Commonwealth Games Premiers Dinner (in 2003), The Melbourne International Jazz Festival, The Melbourne Music Festival, Ford Australia Annual Awards dinner hosted by Craig Lowndes, Sony product launches at The Marriott Hotel,Qld, and more.
In 2004 Singer Simon LeBon brought his band Duran Duran in to see Sarah after their Melbourne concert. Upon strolling into The Deco Bar at Melbourne's Grand Hyatt Hotel, he contacted his fellow band members to tell them to pop in for a drink. He introduced himself and said that the 'boys would be down'. Four hours later, they were still seated directly in front of Sarah and her pianist, requesting many songs - much to Sarah's delight!
Whether it's an intimate setting or a major event, Sarah Maclaine is sure to be the complete package!