Bob Valentine
Booking / Enquiry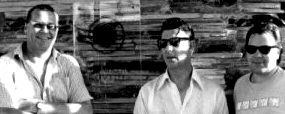 Melbourne, Australia
Having fronted successful acts like the Lonely Boys and the Sweethearts, Bob Valentine is one of Melbourne's favourite performers. Being in constant demand on the corporate circuit, Bob Valentine has produced many performance formats.
With influences like Sinatra, Count Basie, The Beatles, Ray Charles, Elvis, Van Morrison, Stevie Wonder and Australasia's own Ricky May, the word "variety" is synonymous with the name Bob Valentine.
Bob Valentine's television credits include Hey Hey It's Saturday, Good Morning Australia, In Melbourne Tonight, Denise, Steve Vizards` Tonight Live, The Midday Show, Live & Kicking, Ernie & Denise and many others.
Bob Valentine, with his various line-ups, has performed at private functions for names such as Holden Cars, Lloyd & Suzie Williams, Western Bulldogs, Melbourne Football Club, Australian Tourist Commission, Colin Hayes, 500 Club, Amway, Variety Club, Ford, Shell, The Nine Network, Grand Prix Ball, Paul Dainty, Toyota, Castrol, Lillian Frank, Coca-Cola, Victorian Country Racing Council, Jeff & Felicity Kennett, SIDS Foundation, Porsche Cars, VATC & VRC, the challenge cancer network, Arthur Anderson Consulting, and BMW.
Bob Valentine has performed at the AFL Grand Final, The Australian Open Tennis, the NBL Grand Final, the Melbourne & Caulfield Cups. Bob also has the weddings of Eddie & Carla Mcguire, Steve & Jo Silvagni, Hugh & Deborah-Lee Jackman, Dermott & Toni Brereton and the milestone birthdays of Sam Newman, Kerry Packer, Jimmy Barnes, Lee Freedman & Jill farnham to his credit......to name just a few.
Bob is also in the enviable position of being one of Crown Casino's preferred performers. Bob Valentine has appeared in the Palladium Ballroom & Crown Showroom on numerous occasions with his big band. Bob was one of the invited entertainers (along with his 20-piece orchestra) to perform at the grand opening Palladium concert, & has enjoyed the privilege of supporting Whitney Houston, Rod Stewart, the five sold-out Stevie Wonder shows and the legendary Jerry Lewis on both his visits Downunder.
All through 1998 & 1999 Bob Valentine's vocal talents are heard and recognised as the voice behind "there's no other store like David Jones" television & radio commercials. Bob Valentine was chosen to record the theme song for The Melbourne Storm & perform it for their 1999 premiership season.
Bob Valentine's band line-ups boast Melbourne's most prominent session and concert musicians and has featured guest vocalists the calibre of Lisa Edwards, Ross Wilson, Renee Geyer, Wendy Stapleton and many others. Bob's big band performances feature song arrangements that really create that "wow factor".
Bob Valentine has made a few forays into the big world, doing corporate shows in Bali & Fiji, two public performances in Beijing left him with a following of Chinese jazz devotees & his recorded work is played on Beijing FM radio, along with regular interviews through Radio Australia. Early 1999 saw Bob Valentine visit Bahrain for a special Australia Day show.
An evening with Bob Valentine will take you down a musical road you will want to travel more than once. Bob loves nothing better than a good party and many people will attest to the fact that a Bob Valentine gig is one hell of a party.
Bob brings a wealth of experience to any performance and a night with Bob Valentine guarantees a great time for all involved. So whether it be a private function dance band, a floorshow or a 20-piece orchestra the name Bob Valentine should be at the top of your entertainment list.
Find their song list here!