Grand Wazoo
Booking / Enquiry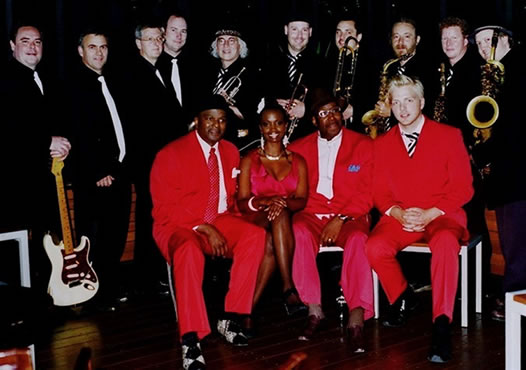 Australia Wide
Grand Wazoo is a 14 + piece band, which provides the most authentic and entertaining Soul Music experience in Australia— featuring great soul hits & dance tunes, rare soul gems not performed by other outfits, along with Grand WaZoo originals in that same big brassy style.
And not only does Grand WaZoo sound musically wonderful, but it also looks like a Soul Supergroup, with an attractive multi-generational, multicultural lineup — with wide appeal to all ages.
The Band was founded in 1981 by Trumpeter & Arranger, John Montesante, who still leads the Band today. He had previously been a founding member-arranger of 'Kush' and toured with 'J.A.Madison', 'Jo Jo Zep' and other rock, soul and r&b bands, as well as performing freelance in numerous show bands, big bands and TV orchestras. Many faceted — also a passionate Jazz musician — he determined to create quality work opportunites for his peers. Grand WaZoo then became a rite of passage for many of the finest artists in this country, who have gone on to stellar careers, and most outfits that have followed in the Soul genre, have taken their inspiration from this mighty band. GRAND WAZOO offers musical excellence, longevity, experience and entertainment value second to none; and is widely revered as a "Soul Institution".
The Band's usual offering is a Soul Extravaganza of up to 2 x 1 hour sets, or 3 x 40 min sets — with some flexibility for special events, functions, festivals and media. Grand WaZoo has backed and supported international and local well-known artists, including Wilson Pickett Band, Sam & Dave, Venetta Fields, Jeff Duff, Marcia Hines, Kate Ceberano, Hollywood Brown, Bob Valentine, Peter Cupples, Hot Chocolate, Lisa Edwards, Renee Geyer, Normie Rowe, Jackie Love, Max Merritt, Joe Camilleri and many others.
GRAND WAZOO is available for Prestige Tours & Corporate Events interstate, as well as International Gigs and Festivals. The size and status of the band places it at the higher end of the entertainment market.
Find their song list here!