RetroSexual
Booking / Enquiry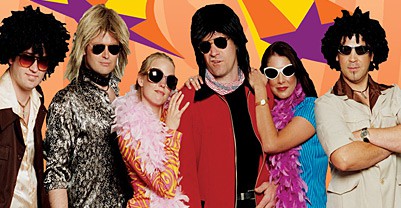 Victoria, Australia
RETROSEXUAL is a hot concept band playing all the greatest Retro hits from the 70's and 80's.

RETROSEXUAL perform their show in vintage Retro costumes along with Retro wigs and sunglasses - because they know that to play cool, they have to feel cool! (Besides, its not whether you win or lose - its if you look good doing it!)
RETROSEXUAL are for all people of Retrosexual orientation - and those that just want to try it out! They are constantly striving to service the Retrosexual community better!

RETROSEXUAL were introduced to music as kids through the funk and grooves of the 70's hits on radio and 'Countdown.' And they fondly remember all those wonderfully cheesy 80's songs that they danced to at all those Blue Light Discos, and watching Donny Osmond present T.V. show 'Sounds' each week.

RETROSEXUAL has a preferred viewing list that includes 'Top Gun', 'Saturday Night Fever', 'Fame', 'Footloose', and any episodes of 'Miami Vice' or 'CHiPs'.

RETROSEXUAL members drive only HQ's, Torana's and pre-1985 Commodore's!

RETROSEXUAL can't understand the how the fashion ever moved away from acid-wash jeans, adidas Rome's, pastel coloured V-neck jumpers, coloured hair spray, crimped hair, velour, flares and thin leather ties! Well, their vow to you is - IT WILL BE BACK!
RETROSEXUAL have the look, the songs, the attitude and the show to create a total party atmosphere with their action-packed, energy-filled, totally groovy, super-fly TNT funky show - just like it has always been in the 70's and 80's!