Blue Turban Percussion
Booking / Enquiry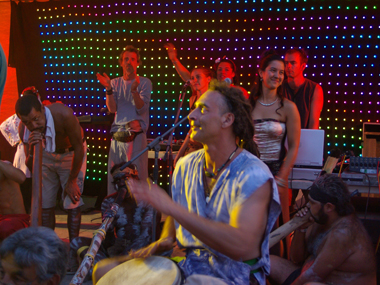 Victoria, Australia
Trained by King Marong, Ray Pereira and various other African master percussionists, Brendan has traveled and lived in West Africa for over two years, including 7 months training in Ghana with Nee Odi of the Kusun and Wala traditional ensembles.
In between flights to Africa, Brendan has also toured Australia, learning with Ghanaian band Nil Tetteh Tetteh and the Kusun Ensemble, performed with Brahim Benim and his Moroccan ensemble, in Japan with Iconfusion at the Folk Rhythm and Life Festival with Gungu Giri and various venues with South of the River Gospel Choir.

But just as African percussion has a global history; Brendan's travels to over 70 countries world-wide have fired a passion for rhythm which also extends to the energetic polyrhythms of Morocco and the crisp soulful Latin beats of Cuba.

Brendan has taken his dynamic percussion performance to various corporate conferences and other events in Australia and Japan, playing at such venues as Colonial Stadium, Federation Square, The Royal Melbourne Show, the Grand Ballroom at the Hyatt, the Carlton Crest Hotel, The Palais Ballroom, Sheraton Towers, The Palladium Ballroom at Crown Casino and The Corner Hotel.