Brahim Behnim - Moroccan
Booking / Enquiry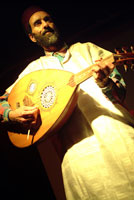 Victoria, Australia
Melbourne's foremost Moroccan musician, Brahim Benhim, and his group La Kasbah bring to life the rhythms and melodies that are an integral part of Moroccan life. Brahim's musical career spans over twenty five years, and as well as providing lead vocals he is a multi-instrumentalist and dancer.
Moroccan music reflects classical Arabic poetic traditions, with beautiful, carefully crafted lyrics. When combined with enticing dance rhythms and haunting melodies based on Arabic scales, these influences create a music that uniquely Moroccan.
La Kasbah's showcases Brahim's mastery of the oud (Arabic lute) and other traditional instruments. The group has a repertoire which includes traditional Moroccan songs in Arabic, Spanish and French; original songs written by Brahim and improvisational instrumental and percussion pieces.
Brahim was born in Rabat, Morocco's capital city. The rich musical and cultural heritage of Morocco reflects its position as one of the great artistic and cultural crossroads in the history of the world. Situated on the north-east coast of northern Africa, Morocco sits at the mouth of the Mediterranean, only one hour's ferry ride across the Straits of Gibraltar from the south coast Spain.