Kanga Kapers
Booking / Enquiry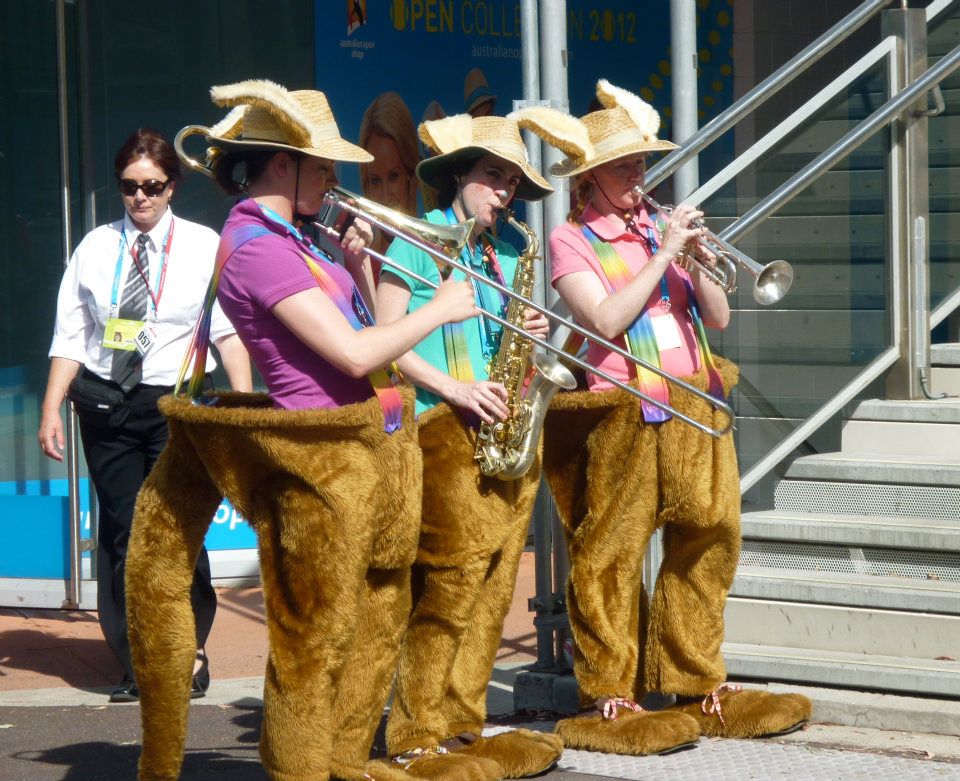 Victoria, Australia
Kanga Kapers is a unique performing group based in Melbourne, Australia. It consists of a trio of gorgeous gal Kangaroos. We play music, sing, dance and perform Komedy Kapers!
 Bass Trio
 Vocal Trio
 Percussion Grooves
 Children's Games
 Balloon Animals
 Comedy
 Fanfares and more!
What do we play?
Kanga Kapers play an extraordinary range of music. Suitable for almost any zany occasion!
T.V themes, Movie themes, Latin, Jazz and even a few Classics! And of course not forgetting our serious side, we can play a traditional fanfare.
Not to mention our glorious rendition of our National Anthem, Advance Australia Fair!

Where can we play?
We can play just about anywhere, amazingly portable, we rove through crowds or perform in a static position.
Festivals, parades, corporate events, agricultural shows, sports, children's parties AND Australiana.
Performance Length?
 Festivals? A typical festival day would involve three 20 minute sets spread throughout the day.
 A parade? Obviously the length of the parade!
 School Show? Thirty minute show!
 Corporate? Drinks entertainment
 Sports? Book us for 'A Real Aussie Flavour!'

Find their repitoire here!