Three Waiters
Booking / Enquiry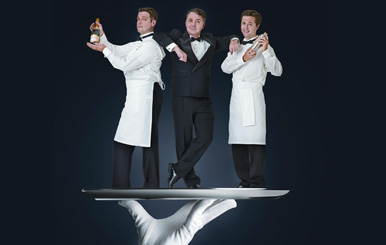 New South Wales, Australia
Imagine if during your next function, one of the drink waiters bursts out a huge operatic note initiating thunderous applause…., then promptly returns to his duties.

A short time later, a competitive second waiter decides to join the stage resulting in a singing duel that includes anything from Pavarotti to Dean Martin or Lloyd Webber to Puccini.

But the real fun is only just beginning.
To the further surprise of the audience…a third waiter gate crashes, and the performance concludes in true "Three Tenors" style.
INTRODUCING THE THREE WAITERS!
Having performed more than thirteen hundred shows in twentyfive countries, 'The Three Waiters' is presently one of the most successful corporate production shows in the world.
Three teams operate in Australia, New Zealand and Asia, and two teams service the United Kingdom.
During the Olympic Games in Sydney, The Three Waiters was one of the most sought after acts, performing to a range of clientele from major corporate sponsors to visiting Royalty, and Heads of State.
The Three Waiters is not a "wacky waiters" show, but in fact quite the opposite. The show provides sophisticated, high quality entertainment made up of some of the best performers that opera and music theatre have to offer.
So what's all the fuss about The Three Waiters?

UNIQUE CONCEPT
The concept of The Three Waiters involves three talented and highly entertaining opera singers dressing and hoaxing as 'real' waiters before grouping together to take the audience through a very amusing, yet sophisticated show.
SURPRISE!
Subtly, the performers infiltrate the function as members of the 'real' waiting staff. However, all is not what it seems. The audience is given no clue of what is about to come. Over a period of time, to the surprise of the guests, an unexpected story unfolds culminating in a performance of true 'Three Tenors' style.
USER FRIENDLY
The structure and content of The Three Waiters suits a wide spectrum of audience taste by taking away the seriousness often associated with opera and adding an element of fun, spontaneity and surprise. With repertoire consisting of arias made famous by 'the Three Tenors' along with well-known songs from popular musicals, The Three Waiters has proven equally successful with an audience of football players through to the most discerning opera buffs.
EASILY CUSTOMIZED
Be it a dinner party of ten guests or a ballroom of two thousand, the structure of the show along with the vast repertoire and experience of each of the performers allows the act to be easily customized to suit your particular requirements.
ARTISTS EXTRAORDINAIRE
The Three Waiters is made up of the best performers that opera and musical theatre have to offer. Each artist is chosen after an extensive audition process. Not only must they be vocally outstanding, but also possess a dynamic personality, with a flair for character-acting, timing and comedy.