Joe Camilleri
Booking / Enquiry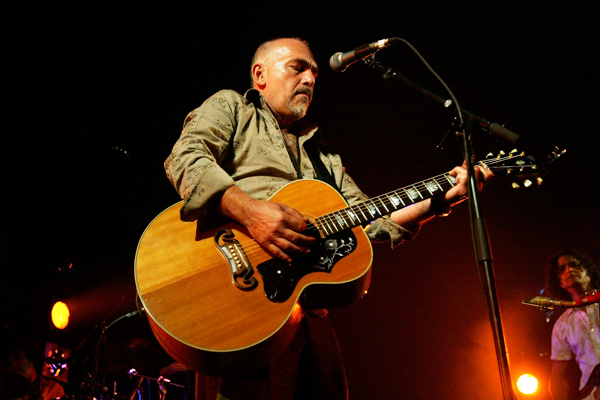 Joe Camilleri is the writer of such milestone Australian songs as So Young, Hit and Run, Shape I'm In, Harley and Rose, Chained to the Wheel and Never Let Me Go. He has produced and co-produced countless albums for Australia's finest musicians and songwriters. Joe has given his life to making music in this country.
Back in 1975 Joe formed Jo Jo Zep and The Falcons. Over a period of 8 years The Falcons amassed enviable sales and radio airplay and ultimately epitomised the era. Jo Jo Zep and The Falcons toured the country relentlessly and became one of Australia's finest live outfits. The band also extensively toured the USA.
In the early '80s Camilleri and friends started up a new band, The Black Sorrows. Originally a 'just for fun' outfit, The Sorrows have released 12 albums over the past fifteen years, all produced or co-produced by Joe. They have sold well over a million albums worldwide.
The Black Sorrows continue to be one of Australia's most successful touring bands. They have played all around Australia and all over the world. In 1990 The Black Sorrows won the ARIA Award for Best Band.
Joe's next side project was The Revelators who released the stunning 'Amazing Stories' in 1991. The Revelators are James Black, Joe Creighton, Nicky Bomba and Joe Camilleri playing the music they love. This first album contains interpretations of songs from the likes of Dylan and Burrito Bros. and is still eagerly sought after by roots music aficionados.
Their latest release 'The Adventures of the Amazing Revelators' was completed in March 2000 and continues the vein of fabulous roots music. Songs from the likes of Nina Simone, Daniel Lanois, Skip James and Van Morrison are beautifully re-worked with the respect they genuinely deserve. This album has quickly become essential listening for those with a love for music.
Over the years other greats have admired the Camilleri's songwriting. Elvis Costello and John Denver are just two who have recorded cover versions of Joe's work.
In 1996 Joe and business partner, Andrew Walker formed the Jazzhead label, a label that is now reputedly the hottest contemporary jazz label in Australia. Enabling young contemporary musicians to release their work, the label has been instrumental in expanding the jazz scene in Australia and collected the ARIA Award for Best Jazz Release in 1998 with Ian Chaplin and Scott Tinkler's 'The Future In Today'. Joe's involvement in Jazzhead, as creative director and producer, is part of his aim to share his experience with young musicians, an ongoing commitment to new talent in Australia.
In January 2000 Joe and Nicky Bomba formed Transmitter Records, a label dedicated to roots/reggae. The latest release from Transmitter is 'Nerbu Message' by George Rrurrambu a fabulously slick reggae/country/language album from the leader of one of Australia's best-loved Indigenous groups The Warumpi Band. Transmitter have also released 'Population' by Bomba (Nicky's own band) and a compilation of Melbourne's finest reggae artists entitled 'The Newport Reggae Festival'.
Joe Camilleri is indeed an Icon of the Australian Music Industry and is as famous for his genial, affable nature as he is for his huge contribution to the country's musical landscape.