Pseudo Echo
Booking / Enquiry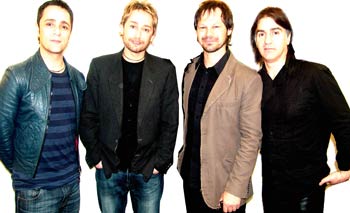 Album sales in excess of one million worldwide, a Top 10 single on the Billboard US pop charts, a No. 1 single on the Billboard US dance charts, a Top 10 single in the UK, a No. 1 single in Australia for 12 consecutive weeks, 7 Top 10 singles in Australia, a No. 1 single in Canada, Sweden and Finland, 4 albums reaching gold and platinum status and a swag of industry awards PSEUDO ECHO'Ssensational chart topping achievements in the Eighties, kept them on an exciting rollercoaster ride through one of the most prominent music decades of our time.
PSEUDO ECHO pioneered the new Eighties electro-pop sound in Australia, soon establishing themselves at the top of the Australian charts with Top 10 hits such as "Listening" and "A Beat For You" from their debut gold selling album "Autumnal Park". The band then scored their biggest worldwide hit to date with a version of Lipps Inc's "Funky Town". Now in the New Millennium, people are still rushing to the dance floor when "Funky Town" hits the turntable, but now groove to "Funky Town Y2K: The Remixes" featuring mixes from Smash'n'Grab, Sly, Quench and Mr. Quik.
Released through Universal Music Australia in December '99, the remix is now followed by Pseudo Echo's new album titled "Teleporter" which is destined to be a huge hit. With all the sounds and energy of the original band (the core being frontman Brian Canham and Bass-synth player Pierre Pierre), along with a blend of the new sounds of the millennium.
PSEUDO ECHO are back to stay!