Andrew Startin
Booking / Enquiry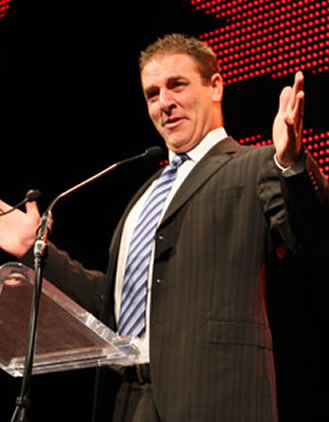 Andrew Startin shot to prominence in 1997 with his incredible impersonation of Sam Newman on Channel 9's Footy Show. The unemployed 19 year old from Benalla became an instant hit with his uncanny take off of the much publicized Footy Show identity.
In January of 1998, Startin signed with Channel 7 on a two year deal to appear on the rival football/variety show, Live and Kicking. After finishing up his contract, Startin focused his energies on the development of new characters, along with his comedy routine for corporate events and sportsman's nights.
Very quickly Startin's repertoire expanded to include media identities Bruce McAvaney, Dennis Cometti, and Mike Sheahan. Startin soon found himself a sought after speaker as word was quickly spreading about his new characters that put a humorous twist on their unique style of commentary.
The famous Working Dog Productions of The Panel and The Castle fame, secured Andrew's services for Glenn Robbins "Russel Coight Celebrity Challenge" telemovie in 2004, which ultimately led to 3 guest appearances on The Panel that year.
Not only had Startin covered the AFL's media stars, he had now included a couple of familiar cricketing stalwarts, Richie Benaud and Tony Grieg to his stable of stars, along with swimming sensation Ian Thorpe. The latest addition is Australia's PM, Julia Gillard, as Startin mimics the nation's leader with her iconic voice.
Whether he is talking of love trysts as the controversial Sam Newman, delivering a barrage of play on words as football commentator Dennis Cometti, justifying the need for a carbon tax as PM Julia Gillard or mesmerizing you with statistical brilliance as Bruce McAvaney, there is no doubt Andrew will leave you in stitches with his impersonations of our country's media personalities!
If you are after a more tailored performance, Andrew is more than capable of adapting his routine to suit your function.
Andrew is Into his 14th year on the speaking circuit, not bad for a kid that was unemployed when he made his Footy Show debut. With his characters providing him with plenty of material there is no sign of him slowing up anytime soon.