Austin & The Shagadelics
Booking / Enquiry
Austin & The Shagadelics is a hip and groovy showband out of the 60's - a time of promiscuous unprotected sex and indiscriminate drug-taking in a consequence-free environment.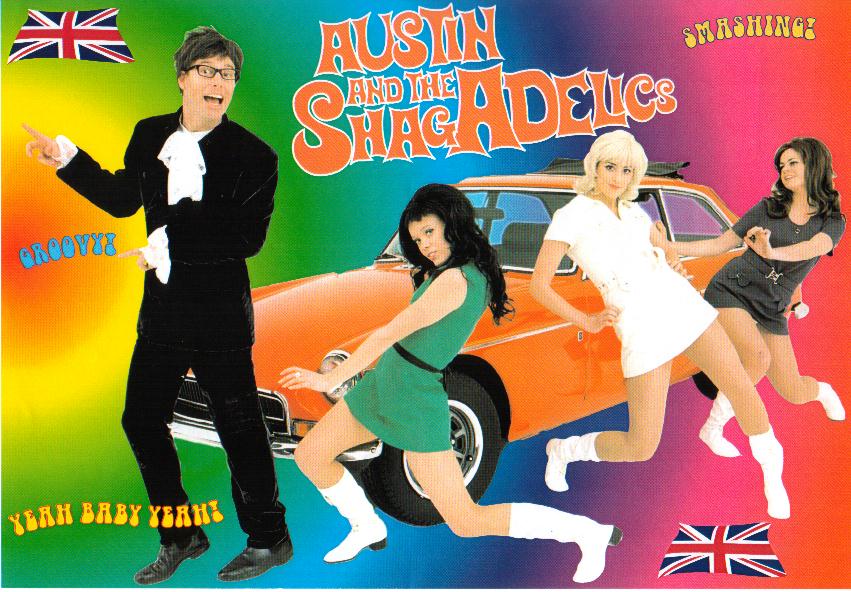 The star of the show is of course the hilarious Ausin, a sexy cross between James Bond and Benny Hill - and the man who put the 'Grr!!' into 'swinger'. Austin sings and dances with the gorgeous Shagettes in the crazy style of the time, accompanied by his faithful six-piece band, the Shagadelics.
When Austin briefly leaves the stage to save the world from the unspeakable Dr. Evil and the Fembots, the Shagettes take over to perform "these Boots are Made for Walking" and other smashing numbers.
Let the International Man of Mystery really get things moving at your function. Dancing til you're spent to the swinging hits of Sergio Mendes, Tom Jones and Barry White. Or just get comfy and let Austin show you love with his saucy renditions of the romantic songs of Mr. Burt Bacharach.
Whatever the occasion, Austin and the Shagadelics are sure to make you very horniy - so BEHAVE!!